Boulder Denim™ Manufacturing Update
Hey backers!  
It's been a couple of weeks since we last reached out and we just received our tests back from Switzerland.
Hydrophobic Coating: The hydrophobic tests were a huge success. The jeans will actually be 100% waterproof for the first few washes. After about 20 washes, they will still be 70% effective which is quite amazing. We don't recommend washing them that often anyways because good jeans are not meant to be washed much. The tests also revealed that the denim's coating has excellent abrasion resistance meaning you can scrape these guys against granite and they won't lose their effectiveness. For all you info-heads, we've attached our direct lab results below. The good news is we found a facility in the US that can treat our denim so we don't need to ship out the denim rolls to Switzerland anymore. We'll be posting a video showing off our hydrophobic coating early next week so stay tuned for our next update.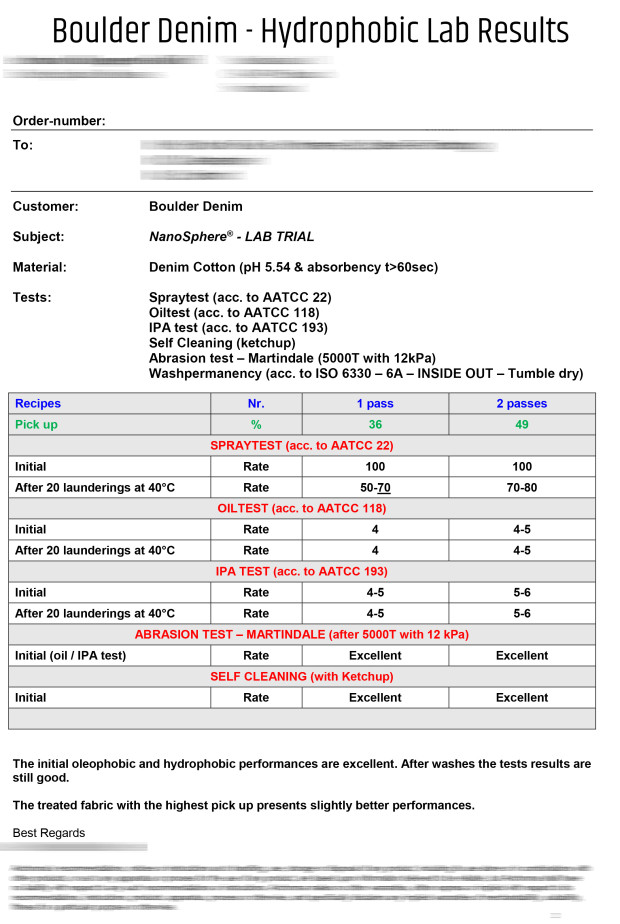 Buttons & Rivets: Since we smashed our Kickstarter goal, we're able to add a little flair to our jeans. Our buttons will have our logo engraved on them and our rivets will all be engraved with "Boulder Denim" as well. We're waiting for the samples from YKK to share with you guys. YKK is the largest supplier of buttons and rivets and even though we placed our order a couple of months ago, we're still waiting on them. This will likely be the main cause of our shipping delays. It's possible that our factory won't receive them until May which means we can't ship out until at least May, possibly June. 
Shipping Timeline: As mentioned above, we will likely be delayed until May or June. We're incredibly sorry about this and we are brainstorming ways to make it up to you. As you know, we're a startup and we've already come across our fair share of obstacles but rest assured, we can't wait to get you in our jeans. The anticipation is killing us as well! 

Sizing Lockdown: We'll be locking down our sizes at the end of the week on March 18th. So if you would like to change your size before we lock them down, please do so through this link. You'll be able to change your shipping address up to the point we're ready to ship. Update your orders here: https://boulder-denim-ultra-stretch-stain-resis...
Thanks everyone! We appreciate your patience and support.